Data Case Study #1
Background
We partnered with a global sports equipment manufacturing company with over 1,000 employees that designs, markets and sells custom golf equipment and apparel. They provide a presence in both brick and mortar stores along with ecommerce sales.
Challenges
The company's rapid expansion created a patchwork data architecture managed by multiple teams with different skill sets and priorities. Over time, this architecture was unable to support advanced data products (including ML, etc) to achieve sales growth worldwide.
In addition, the strict governance and permission structures the company established made onboarding new data sources a complex process with long implementation timelines. Their data infrastructure was so complicated that they were afraid to tackle both its complexity and limited access and needed help implementing a data lake along with a trained staff to manage it.
Solutions
Evaluation process plan
Met with all of the stakeholders over a 2 week period with a technical review and follow up
Created initial architecture and lean prototypes with actual uses of data products
Set a time frame for implementation
Governance & data management process
Removed the need for coding and move any coding requirements to an orchestration layer to have improved security by using a transformation tool that enabled SQL developers to continue working in the application while maintaining increased speed, the ability to track lineage and monitor data.
Removed bottlenecks for making changes and required a modern data stack to ensure the appropriate securities are in place to provide the ability for non-developers to make updates.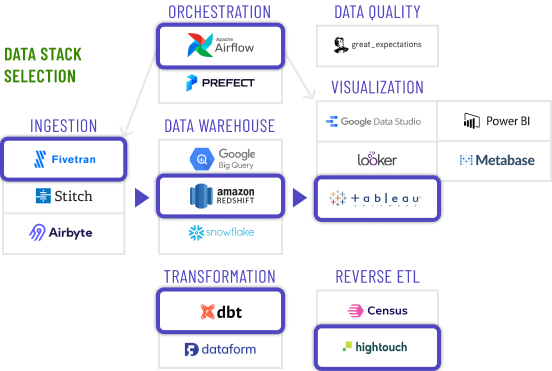 Results
Education and adoption of their new infrastructure increased confidence and speed in making small changes
We removed the infrastructure burden, then used products that centralized data ingestion into one tool, that allowed them access throughout the data team
Internal costs were reduced due to the automation of their marketing strategy
Company-wide spending was reduced by 25%
Implementation costs were reduced because of low/no code